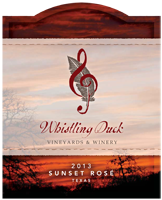 Texas Sunset Rosé
Our old-world style (dry) Rosé wine is created from our a selected red wine grape varietal that varies from one year to the next through a special process of extracting the juice from the grapes known as Saignee or bleeding. Rosé wines made through bleeding are rich, fruity and have great freshness. Although this wine is wonderful by itself, it also compliments light meats, seafood, cheese, melon and pasta.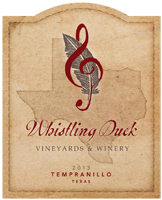 Tempranillo Reserve (Dry, Oak Aged) - SOLD OUT
This medium-bodied, ruby red wine offers youthful grit and mature, integrated layers of bright fruit, toasty oak and spicy earthiness. Because of its savory nature, Tempranillo pairs very well with all kinds of food — lasagna, pizza, pasta dishes with tomato-based sauces, ad Mexican food.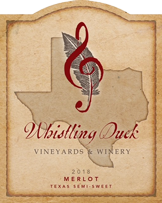 Merlot - SOLD OUT
Our Merlot is an "off-dry", light bodied, fruity wine with a hint of sweetness and a smooth, dry finish.
Souzao
This is a very smooth, medium bodied, dry red wine with intense flavors.
Bodacious
A bold blend of Primitivo and Sangiovese carefully aged in Kentucky Bourbon Barrels to infuse the smooth flavors of bourbon into the wine. This wine is named for "Bodacious" J31, one of the most celebrated bucking bulls in the rodeo sport of bull riding. Bodacious, known as "the greatest bull ever to buck" was owned by the Andrews Rodeo Company in Addielou, Texas. The artwork for our label was created by well known wester artist, Roger Langford. A portion of the sales from each bottle will be donated to the Pro Rodeo Hall of Fame Scholarship Fund
Buzzard Head Red
This is a semi-sweet red wine made from our estate grown Lenoir (Black Spanish) grapes. It is light-bodied and fruity with a hint of sweetness. This wine was awarded a Silver Medal at the 2017 Houston Livestock Show & Rodeo International Wine Competition.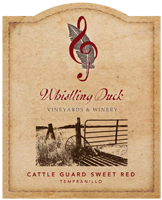 Cattle Guard Sweet Red (Tempranillo) - TEMPORARILY SOLD OUT
This is a heavenly sweet red wine with a medium, fruity flavor exhibiting hints of sweet cherry and plum. A great sippin' wine that can be enjoyed slightly chilled and goes great with all kinds of foods, especially desserts and main dishes with a hint of sweetness.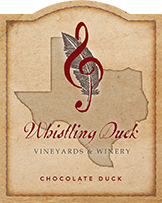 Chocolate Duck
Chocolate & Almond infused Ruby Cabernet. Dessert wine. Chocolate covered cherries or Red Velvet Cake flavors.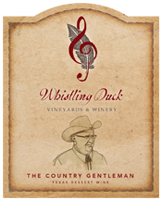 Country Gentleman
Port-style dessert wine; fortified with brandy; oak aged; 18% alcohol content.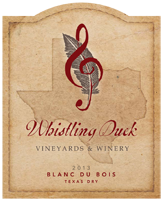 Blanc du Bois (Dry)
This wine has a lightly dry finish and is clean and crisp on the palate. Aromas of fruit, flowers, and honey fill the glass, inviting you to enjoy what nature and our winemaker have crafted. It is a delightful companion with seafood, pasta with white sauces, chicken and different types of cheese. This wine has a similar flavor profile to Pinot Grigio or Sauvignon Blanc.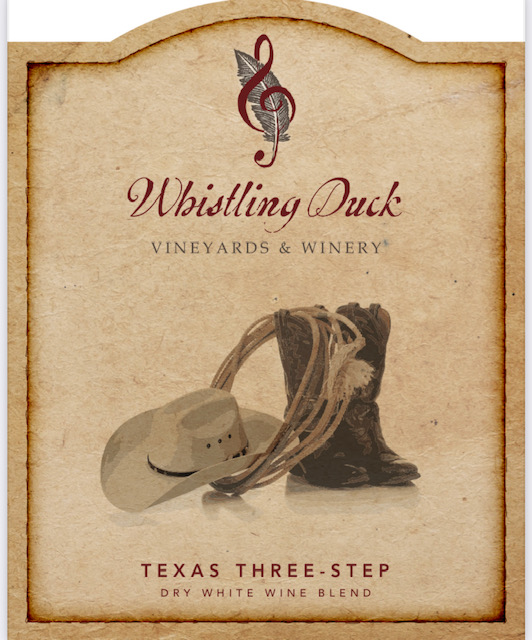 Texas Three-Step (Dry) -
This wine is a blend of three grape varietals, Viognier, Rousanne, and Marsanne, that originated in the Rhone region of France but are now grown in the High Plains of Texas.  It has wonderful flavors of honeysuckle, peach and pear and pairs very nicely with seafood, chicken different types of cheese.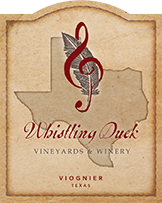 Viognier (Dry)
This beautifully balanced crisp white wine creates a unique tasting experience with bright crisp pear overtones and a velvety smooth vanilla and melon finish. This is a fabulous wine to enjoy with spicy foods, sushi, game meat, soft cheeses, and brie.
Long Road Home - TEMPORARILY SOLD OUT
Semi-sweet Blanc du Bois white wine. Crisp, fruity & citric.
Pura Vida
A delightfully sweet wine made from Muscat Canelli grapes in the Moscatto style.
Texas Sparkler - White Wine
Off-dry sparkling blend of Rousanne and Viognier grapes.